Projects have existed since the beginning of civilisation. From building the colosseum to launching the new iPhone X, projects have shaped the world that we live in. One thing remains the same: project management. Every project requires good project management in order for it to be considered successful. No matter how big or small the project is, it is essential that an organised methodology is applied to the process so that it can be achieved efficiently. With the rise of technology, project management has also evolved and become the quintessential part of every project.
Trello is a project management tool launched in 2011, aiming to help you get work done more collaboratively and visually. Through boards and tags, Trello allows you to organize tasks, assign them to roles and track the progress.
While commonly used by agile software development teams, the solution is also used in other departments such as marketing, sales, support and HR. The web-based solution provides tools to define projects, their requirements and the workflow to ensure projects are completed in a planned sequential manner.
Trello offers a digital board to create, organize and prioritize actions. Administrators or managers can even define workflows, assign tasks to individuals or teams, set deadlines and monitor progress. Trello cards allow users to collaborate with each other. Users can add comments, add members and attach documents to the tasks assigned to them. Trello has a free subscription, but also offers a professional package, with the privacy and administrative settings required by large enterprises. Trello integrates with a number of online applications including JIRA Cloud, Bitbucket Cloud, Google Drive, GitHub and Slack.
Start with creating a board on https://trello.com/ and invite your colleagues through their emails. It is important that everyone has access to the Trello board that you created, so that communication is transparent and everyone is aware of the deadlines and tasks to complete.
Then, start creating 'lists' which will essentially help you organize things into different cards. Each list has a header, which can be the level of urgency of the tasks. Look at this example.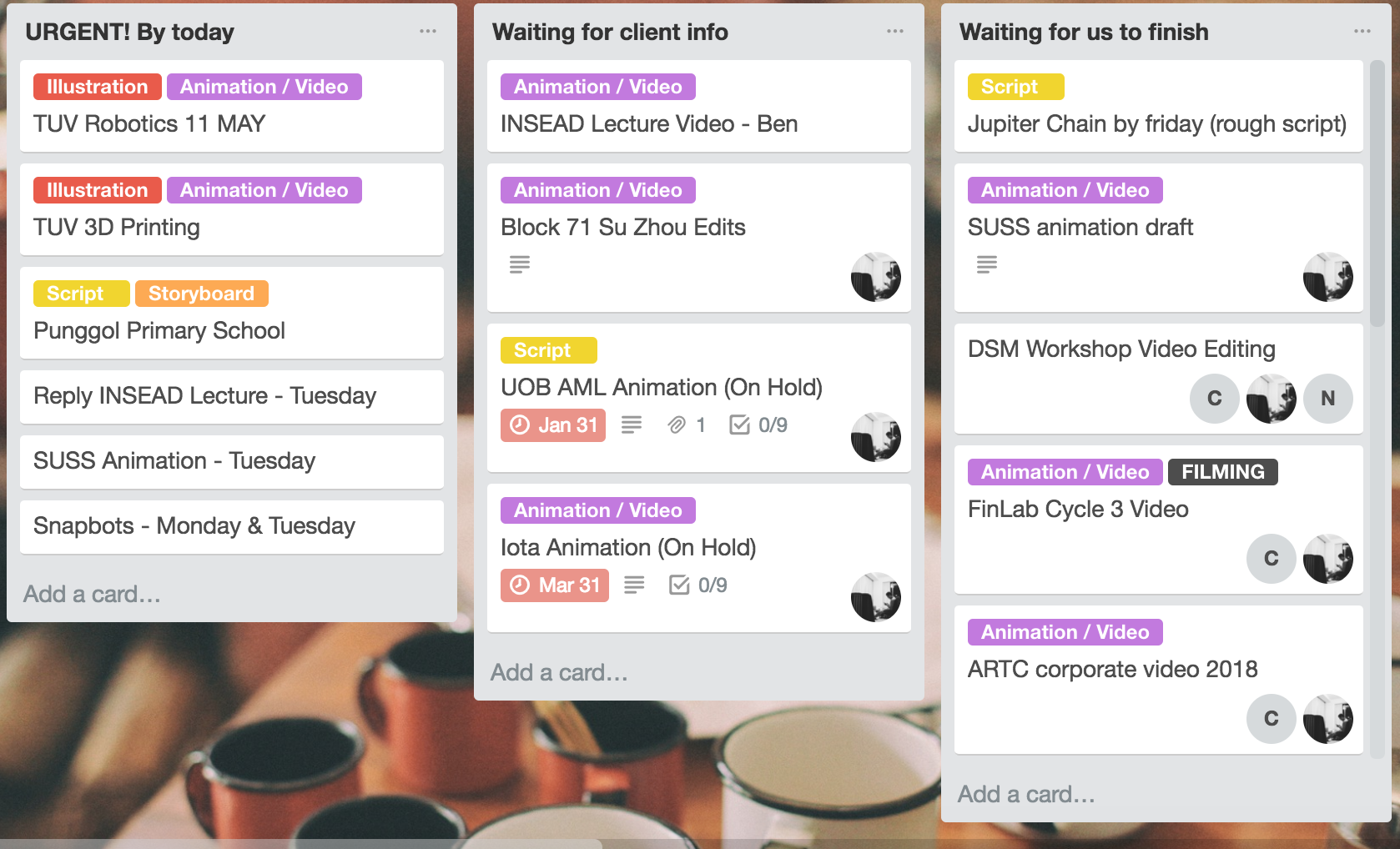 At Gram, we categorize our tasks by level of urgency, so there is a list of urgent tasks that should be completed by the day, a list of tasks that are awaiting client reply, and a list of tasks that are still in progress but are not the most urgent. This way, it is easier to see the state of progress of each task and the urgency of it.
You can also add deadlines for each task, and tag the person responsible for it. The tagging function decreases the chance of miscommunication as everyone is aware of the tasks that they are supposed to complete. Additionally, you can add colour-coded tags for each task to further elaborate on the task. The colour-coded tags can be customized according to how you want to organize the tasks. For us, we used the tags to name the format of the task needed, so we have animation, video, script, illustration and others. These tags allow us to see the format that the task requires, so as to avoid confusion. Each task can also be easily cleared by hovering your cursor over it and pressing c.
The best part about Trello is that it is very easy to use. It helps to simplify project management and organize without much effort. Anybody can organize with Trello. It is an online planner that is straightforward and yet precise with its details. You can easily create a card in seconds and include the details with tags, colour coded labels and categories. Shift cards around just by dragging it, and clear it just by pressing c. For people who are less organized, this tool is the easiest and most convenient to use. Trello allows you to visualize the process of tasks easily.
When work is being organized clearly, the work will appear easier to complete. Tasks that appear easy have a psychological impact on our brain, we love simple things because they're easy on our brain—it doesn't have to work so hard to understand them. Cognitive fluency is how our brain perceives new information. It's the subjective experience of the ease or difficulty of completing a mental task. If something feels easy, we are more inclined to finish it.
Other than being easy to use, Trello also has many benefits. One of them is that it operates in real-time. When someone makes changes in the trello board, other users in the board will see the new changes as well. It updates instantaneously, so you can leave your board open in your tab and it will update if anyone shifts a card. It easily helps everyone on the team to stay connected with the changes. Trello's notification system also instantly informs you whenever something important takes place. You'll get notifications inside the app, and via email and mobile push notifications. The notifications also stay in sync across all your devices, ensuring that you receive the latest update.
Trello also has the following wonderful features:
free pricing for the basic service
checklists, with progress meter
easy uploading of files and attachments
data filtering
mobile app
archiving of card changes and comments
deadline reminders
information retrieval and back-up
New features and what to look out for 
Trello desktop app
Trello has launched a dedicated space on your dock or taskbar just for Trello. The desktop app features new customizable keyboard shortcuts, the ability to set priority boards, Trello desktop notifications, and is even compatible with Apple Touch Bar. The desktop app is free for all users, and is available for both Mac and Windows.
Embedded cards
Interactive Trello cards and boards are now available on apps and websites and are location-based. You can now embed Trello cards and boards directly into Bitbucket, Confluence, Dropbox Paper, Microsoft Teams, and appear.in. You can also copy the URL of any card or board and embed that link into any website or blog post that supports Javascript.
Invision power-ups
This one's for all the designers out there. Users who also rely on InVision for prototypes and mockups can directly embed InVision prototypes to cards as attachments. These previews are easily referenced right from a card. No more hopping back and forth between two products, the InVision Power-Up helps you get a clearer visualization of all your designs.
Upcoming features
Emoji reactions
Trello is working on implementing a feature where you can leave an emoji reaction as a trello card comment. So when wonderful things happen in Trello, you have a broader range of expressions for it!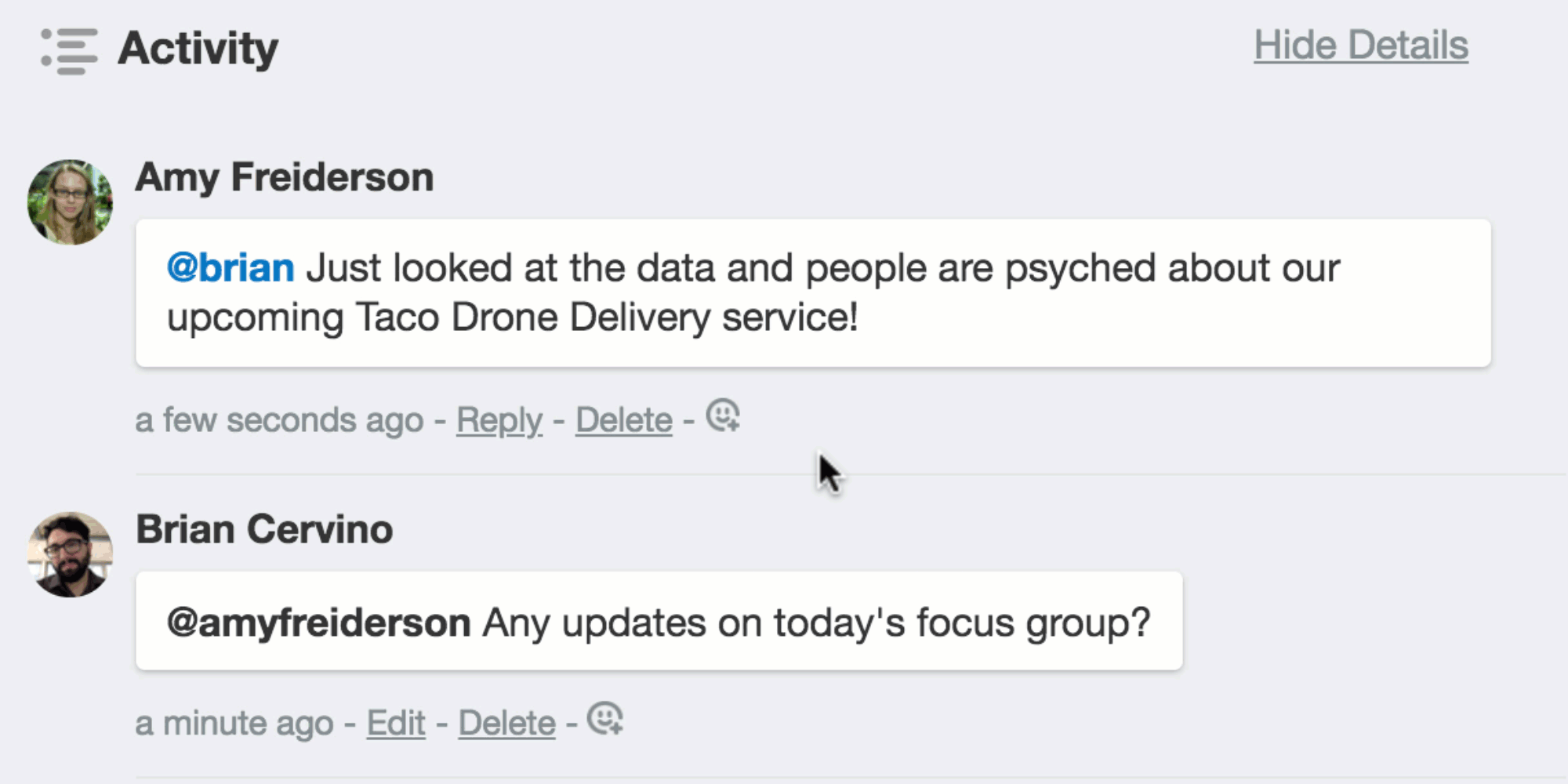 VERDICT: Trello is the most efficient project management tool!
After our company started to use Trello, we became a lot more organised in the way we manage our projects. Now that every single task for every project is written on the Trello board, along with deadlines and tags, we are constantly updated on the progress of everything at once. We also stopped having random panic attacks like, "this is due tomorrow?!??" or "they wanted the script by today?!", as Trello helps us keep track of every single deadline, whether it's a small or big task. For an app that is free, it is one of the most useful tools out there.
For start-ups who are short of manpower, Trello is a great tool to help you in project management. If you don't have a full time project manager, just create a Trello board. Almost anyone can be a project manager when you have a good Trello board. But of course, you have to set the management structure in the board first before doing anything. Knowing what kind of project management process suits your company will benefit your workflow in ways you cannot imagine. As for our company, we prefer using the Kanban workflow because we find that it is the most efficient to group our tasks into "To Do" ,"In Progress", and "Done". Every company differs, and you have to experiment with different workflows before you know which one suits you the best.
Trello works perfectly for us, and has helped us greatly in terms of organising tasks and deadlines.
If you're a small company with a need for easy project management– we highly recommend that you check out Trello!