Tell your story, captivate your audience, and even personify your brand with a unique mascot.
Engaging:
2D animation uses dynamic characters and environments to create a more engaging viewing experience. It can be used to break down and simplify complex topics and make them easier to visualize and understand. This makes your message easier to comprehend and helps leave a more lasting experience.
This is especially effective for more technical and complicated industries such as technology, logistics, science and finance, where you risk losing customers and sales if you do not immediately capture their attention. Not to mention, when your message is easier to understand, it also makes your brand more engaging and trustworthy too, helping to boost conversions.
Versatile:
The beauty of 2D animation is how versatile it is. Every aspect of what is shown can be edited. It's also simpler to tweak and refine until the video is perfect for you. Your video can also be repurposed slightly differently to market on different platforms. It is also more evergreen as it can be easily modified yearly if just a minor update is needed.
Tailored:
A 2D animation video can be completely tailored to fit your brand. Everything from character design, beautiful scenery, dynamic transitions, voiceover, and soundtrack can be customized to fit your company's brand persona. This helps you to stand out from and get easily noticed in a crowded space or industry by showcasing your unique brand characteristics.
Examples of 2D Animation Videos:
Visa EzyProcure Explainer Video
EzyProcure – Your all in one procure to pay, and order to cash system.
Procurri Corporate Explainer Video
Procurri is solves all your IT services and hardware needs.
Shell Bitumen Explainer Video
A cleaner bitumen that minimizes the environmental impact of road paving.
NgeeAnn Poly Culture Video
Productivity is about creating a culture where we find better ways to improve. 
Great Eastern Explainer Video
Enjoy better protection and 100% money back with Great Eastern's GTCMS.
SOS Public Service Awareness Video
Suicidal thoughts may come, but we shouldn't have to keep the pain within us.
Did you know?
Surveys have shown that websites with a quality 2D animation video have an 80% increase in conversion.​​​​​​​ The longer they're there, the more they learn. The more they learn, the likelier they are to buy.
Explain your solutions with:
"Great Eastern is glad to have worked with Gram repeatedly to create numerous animation for our new insurance products over the years.  They consistently provide quality, excellent and speedy customer services and we're pleased with the results."
Our 2D Animation Process: 
Firstly, our studio will strive to familiarise ourselves with what your business is all about. With our very own video strategy brief, we can walk you through sharing more about the business challenges you seek to overcome, marketing goals, unique selling point, competitors and more. This information is useful for us in developing the script's foundation. During this phase, we also exchange high-level ideas and narrow down the general art style for your 2D animation video. Upon reaching an understanding of the message you wish to deliver, we will craft a concept that will present your message in an engaging and understandable manner, factoring in your audience preferences and business goals. 2 free rounds of revisions are provided for this stage.
When you are satisfied with the script, we will proceed to propose several 2D design styles for your consideration. In the event you have a reference you want to follow, we will take it into account here. These ideas will shape the moodboard, setting the overall aesthetics of the animation video. Our in-house artists will then put together sketches to turn your script into a storyboard using the agreed-upon art style. Your mascot or character design will also be custom designed at this stage. With the storyboard, you can visualize the flow of the video. You are welcome to give your input at this point as well. The initial storyboard will be in black and white, but 2-3 styleframes will be fully colored as samples to give you an idea of what to expect in the final product. After approval and confirmation of the storyboard, we will then fill in the colors and details before moving on to animating it. 2 free rounds of revisions also provided in this stage.
If the video requires narration, we will hire a professional voice-over artist. You can audition samples of our voice-over artists and pick according to your preferred language and accent. For a more immersive video, we also provide the option for royalty-free background music and sound effects to be added. Characters will be rigged to allow them to be animated naturally. We will also make the whole thing come alive and move using the wonders of animation. Lastly, we will render a high-definition video file for you in any format you need. With that, your 2D animation video is completed! 2 free rounds of revisions will be provided for this stage.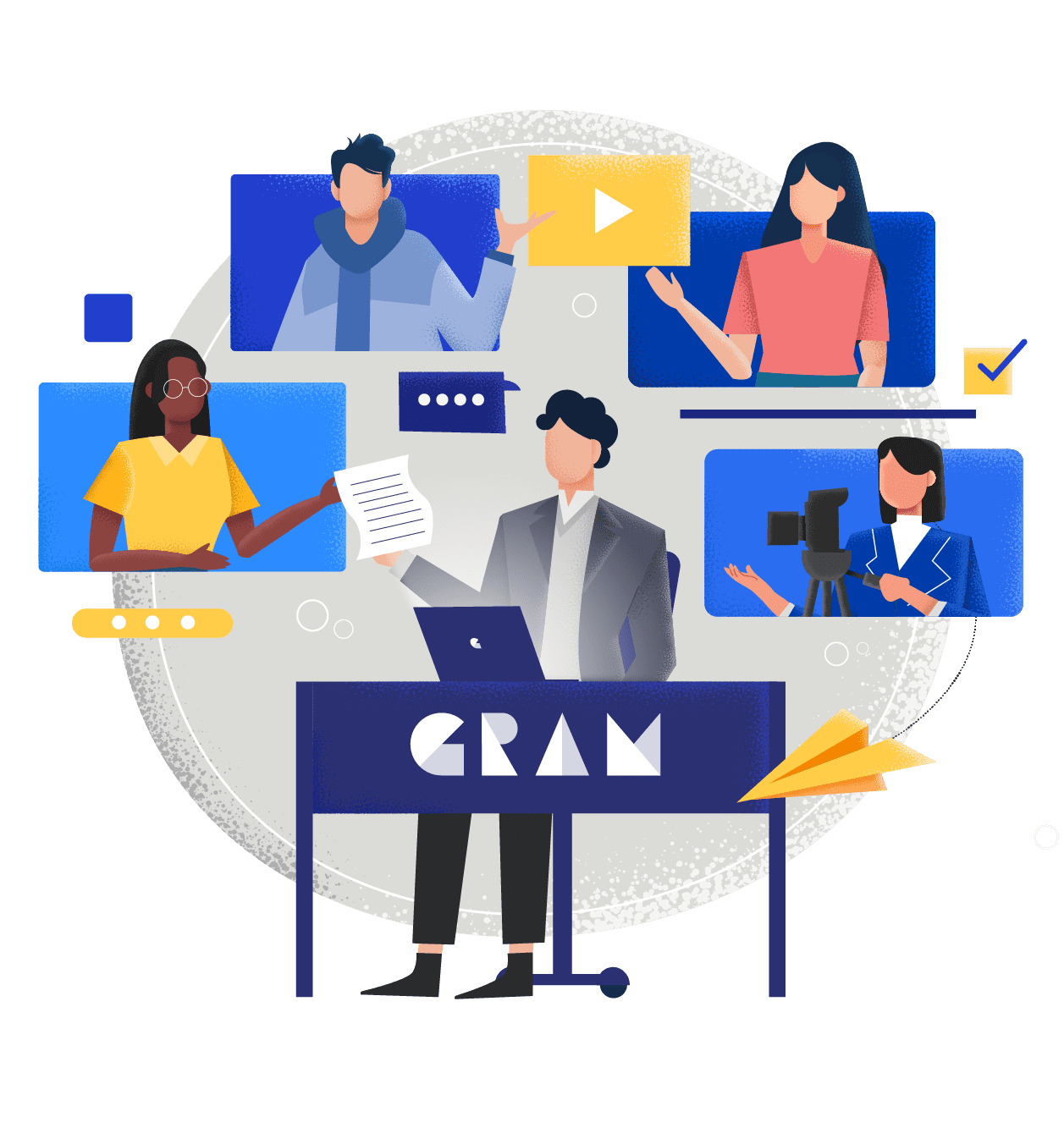 Why work with Gram Animation Studio?
Proven Strategy
Making videos that work is not easy. That's why our proven video strategy removes the guesswork and fulfill actual business needs of our clients from Singapore and around the globe.
Goal Oriented
It is not just about the looks, substance matters as well. Our production company works hand-in-hand with you to deliver results for your videos and brings you closer to achieving your goals.
End-to-end
We have years of experience producing videos and animations from concept to marketing launch in Singapore. No matter what stage you are in, we can help bring you to the finish line.
Interested in getting real results with videos?
Let's connect and achieve your goals together.
View our case studies to see how we have helped others accomplish their goals.
Watch our education series on creating effective video marketing campaigns.
Learn industry practices on how to create effective videos in our blog.