Lights, camera and action! Breathe life into your message with live action video production.
Why use Video Production?
Before you engage a video production house to do your live action video, It's helpful to know why live action are so commonly used in the world. 
Professional:
Showcase how your ideas, production, or services work with live action videos and convince, your audience. After all, seeing is believing. When they experience what your brand has to offer, you move your audience from interest to desire.
Fast:
With the right planning, it is possible for video production to be filmed and edited quickly. This makes it possible to create multiple videos, or longer-form videos faster such as an interview video, compared to other video types.
Personal:
Live action video has the added human-touch. It is a great way to put a face to your brand. This builds credibility and win trust by showing your audience who you really are. Stand out from the rest by letting your company's passion shine through and express your brand's culture with the rest of the world. 
Examples of Video Production:
UOB Soup spoon Testimonial Video
UOB EzyProcure: Your all in one procure to pay, and order to cash system.
Huawei Product Video
Find out how the Huawei Mate 20 Pro is versatile for professionals.
A*STAR ARTC Corporate Video 
Find out how ARTC are your gateway into innovate technologies 
Tissot Commercial Video
Experience the global first digital facade with Tissot at Marina Bay Sands.
Commune How We Work Video
A passionate journey for a constant pursuit of tasteful curated creations.
Credit Culture Social Media Video
Credit made easy with Credit Culture's fast and secure financial services.
Did you know?
According to Forbes, 65% of executives have gone to a company's website after watching their marketing video, and 39% called the company on the phone to find out more.
How to use Video Production?
Attract your audience with:
"Our team was really impressed by the result. It's obvious that these video professionals truly care about what they do and go the extra mile to deliver the highest quality for you…"
Our Video Production Process: 
The first step in performing a successful video production is to know what your business wants to achieve. Our agency will bring you through our in-house video strategy brief to explore your current challenges, business goals, distinguishing factors, competitors and more. This information enables us to understand the key points to include and the scenes to film.
At this stage, we will also consult you in partnership over the detailed concepts for your live-action video production as well as the general tone and feel for your video.
Once we fully grasp the message you want to convey, we will brainstorm ideas and create a script, storyboard, and shot list to decide what we will be filming. Depending on the story, we will also source the necessary talents, production crew, equipment, and location needed to film your story.
2 free rounds of revisions will be provided for this stage.
After the meetings and preparation is done, it's time for the filming to begin. At this stage your creative concepts should have been included in the storyboard and approved by all parties.
The production phase is where we film all the interviews and footage for your corporate video. This is the part where we go "lights, camera, action!" and your story comes alive.
Do remember to communicate everything to use before we begin filming. As production is costly, any cancellations, revisions or re-shoots will be billable.
This is where we carefully review all the footage, and our video editors will do their magic and assemble the story together while polishing to perfection.
This is also where we will bring in the professional voice-over if there is narration required. We will send you several voice samples for an audition, with the choice of your preferred languages and accent. Careful selection of royalty-free music and sound effects can also be executed here to complete your video.
For the graphics, if any, we will make them come alive with the magic of animation.
For the graphics, if any, we will make them come alive with the magic of animation.
We can also overlay motion graphics on top of your live-action video to make them more engaging and unique.
With that, we are done with the video production process.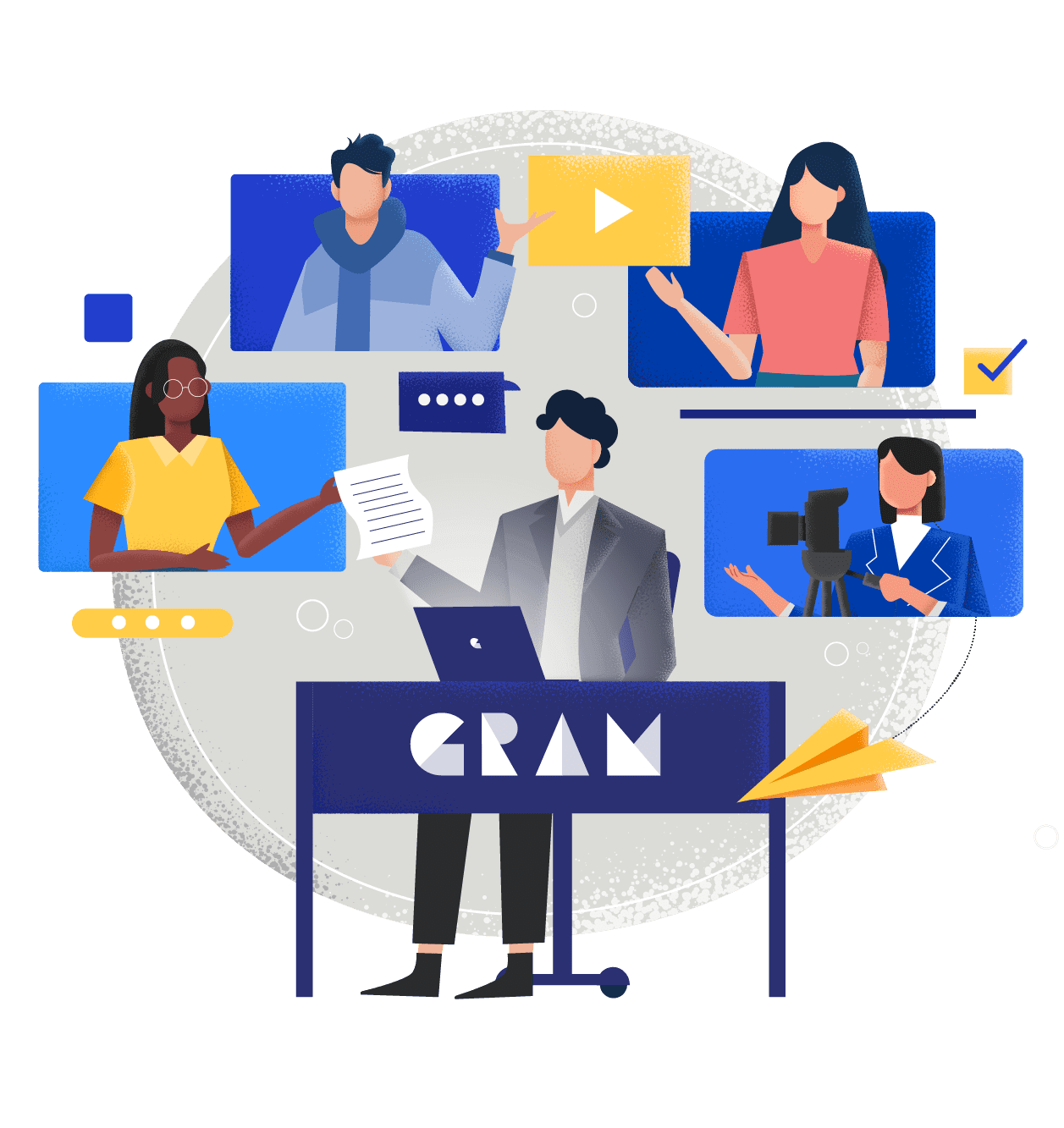 Why work with Gram Animation Studio?
Proven Strategy
Making videos that work is not easy. That's why our proven video strategy removes the guesswork and fulfill actual business needs of our clients from Singapore and around the globe.
Goal Oriented
It is not just about the looks, substance matters as well. Our production company works hand-in-hand with you to deliver results for your videos and brings you closer to achieving your goals.
End-to-end
We have years of experience producing videos and animations from concept to marketing launch in Singapore. No matter what stage you are in, we can help bring you to the finish line.
Interested in getting real results with videos?
Let's connect and achieve your goals together.
View our case studies to see how we have helped others accomplish their goals.
Watch our education series on creating effective video marketing campaigns.
Learn industry practices on how to create effective videos in our blog.