Stand out from the crowd and impress your audience with realistic 3D animation.
3D stands for three-dimensional, where an object's height, width and thickness can be modified and animated to mimic the real world. Today, more companies are using 3D animation in their marketing to create more cinematic visuals to stand out from the crowd.
Photorealistic:
3D animation can be made to look photorealistic, with the same precise measurements and proportions as real life. Since everything is done in software, you can showcase how things look and work without filming them, which may sometimes be too costly or impossible. This makes 3D animation commonly used to feature tangible products, such as in the construction, manufacturing, medical sciences, and engineering industry where you often need to zoom, dismantle, show cross-section views and more.
Immersive:
The realism from 3D also means that it is easier to transport your audience into an immersive 3D world for a fun and memorable experience. This is why 3D animation appeals to audiences of all generations. We are seeing the increasing use of 3D due to its visually appealing nature and its ability to create life-like and believable scenarios.
Premium:
Sometimes you need to use animation to showcase and explain your professional products or ideas to other businesses. However, you feel that 2D animation does have the right look and may not be taken seriously. 3D animation solves this problem as it brings a more serious and premium feel to the animation, and therefore to your ideas as well.
Examples of 3D Animation Videos:
Century Water
NanoPure your advanced and superior water filtration product.
Arbeit Sicher
Find out how TeMP System builds a safe working environment.
Airverclean
Discover how RydAir B Series  transform air cleaning technology.
Attract your audience with:
Explain your solutions with:
"Great Eastern is glad to have worked with Gram repeatedly to create numerous animation for our new insurance products over the years.  They consistently provide quality, excellent and speedy customer services and we're pleased with the results."
Our 3D Animation Process:
The first step in creating your 3d animated video is to know your business better. We use a proprietary video strategy brief that we will fill out with you to find out more about the challenges you wish to overcome, your business goals, differentiating factors, competitors and more. This knowledge helps us to build the foundation of the script.
At this stage we will also share and discuss high-level ideas for your animated story as well as the general art direction for your video.
Once we fully grasp the message you want to convey, we will brainstorm ideas and craft your message in a clear and compelling way based on your target audience and marketing goals.
2 free rounds of revisions will be provided for this stage.
Once you're pleased with the script, we will present you with various 3D design styles to select for your animated video. If you already have a sample that you like, we can reference that as well. This will be used to form our moodboard which sets the look and feel and the overall art direction.
Our artists will proceed to conceptualize visual ideas based on your script into a storyboard in the form of black and white sketches. Your mascot or character design will also be custom designed at this stage. The storyboard will help you to visualize how your video will flow and you can give your suggestions here as well.
After you've approved the finalized storyboard, we will proceed to model the individual 3D objects, before adding textures onto the models, lighting up the scene, and setting up the cameras. Because of the complexity and manhours required at this phase, we will send you scene by scene updates for your approval as we move along to minimize changes.
2 free rounds of revisions will be provided for this stage.
To add life to your video, a professional voice-over artist is engaged if a narration is required. We will send you various voices to listen to, and you can even select other languages and accents. Royalty-free background music and sound effect can also be added to make your video perfect.
Characters will be rigged to allow them to be animated naturally. We will also make the whole thing come alive and move through the magic of animation.
Once we are done, we will have to render it out to see the final look and feel. However, unlike 2D animation or video production, where the rendering time can usually be done within a day or two, 3D animation can require days to render. Therefore, a playblast, which is a quick low-quality preview of the animation, will be provided first before the final render. This gives you an idea of the final video with a fraction of the time needed for a full render.
Once the playblast is approved, the full render is will commence which usually take days. Alternatively, if the timeline is tight, we can engage a render farm on your behalf, which is an external service that uses floors of highly powerful computers to generate the images for us usually within 1 -2 days. Render farms are pay-per-render so make sure everything is approved before the final render as it will be an additional cost. 
Lastly, if additional motion graphics or special effects are needed, we will composite and apply them on top of the 3D video file and export a high-definition video file for you in any format you need.
With that, you're done with the making of your 3D animation video.
2 free rounds of revisions will be provided for this stage.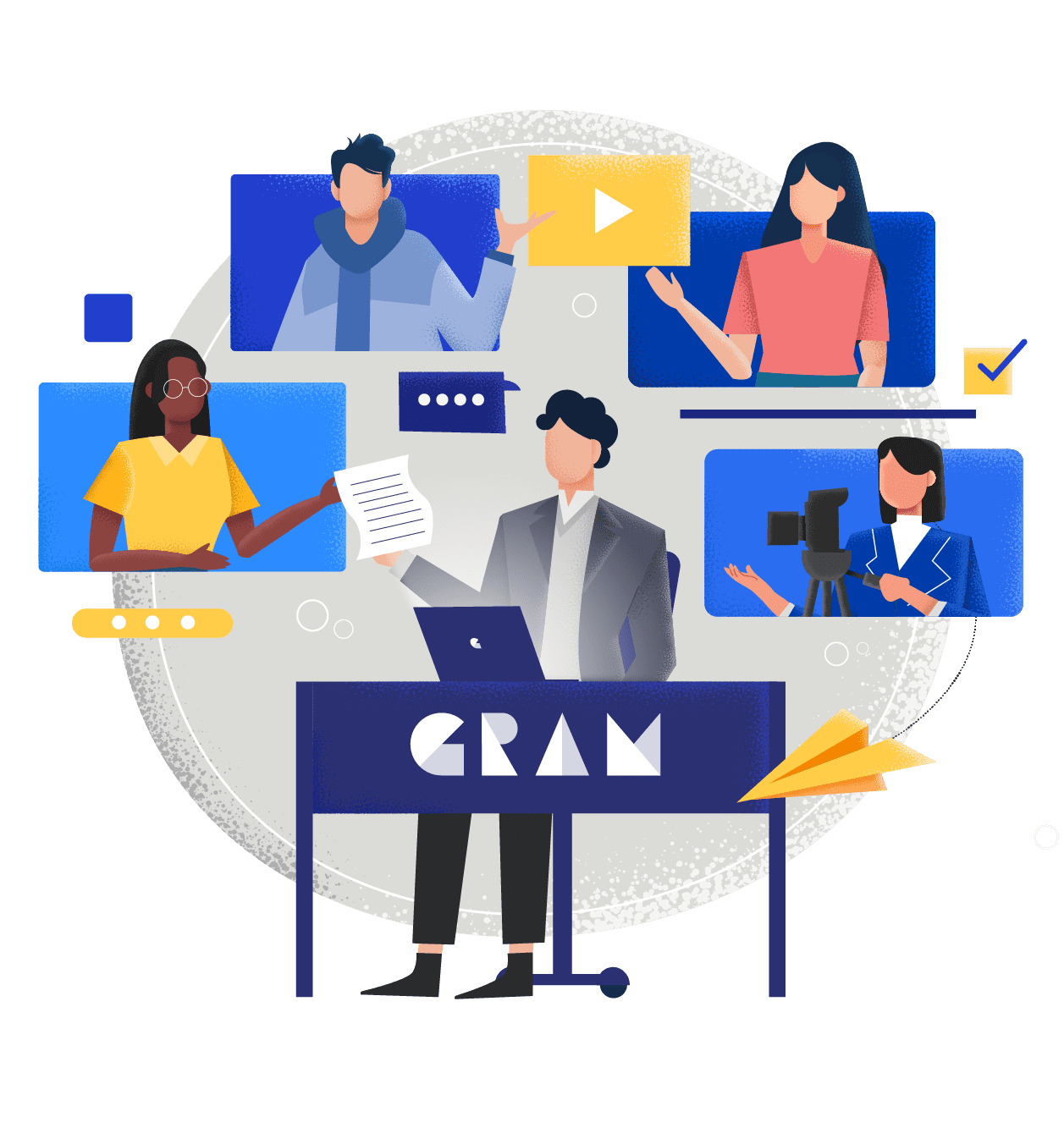 Why work with Gram Animation Studio?
Proven Strategy
Making videos that work is not easy. That's why our proven video strategy removes the guesswork and fulfill actual business needs of our clients from Singapore and around the globe.
Goal Oriented
It is not just about the looks, substance matters as well. Our production company works hand-in-hand with you to deliver results for your videos and brings you closer to achieving your goals.
End-to-end
We have years of experience producing videos and animations from concept to marketing launch in Singapore. No matter what stage you are in, we can help bring you to the finish line.
Interested in getting real results with videos?
Let's connect and achieve your goals together.
View our case studies to see how we have helped others accomplish their goals.
Watch our education series on creating effective video marketing campaigns.
Learn industry practices on how to create effective videos in our blog.